During the Cleveland Cavaliers at.Washington Wizards game last night, a report from the New York Daily News came out that LeBron James is pushing for a Carmelo Anthony trade, even if this trade would include Kevin Love.
Not too long after this report, LeBron rebuffed this speculation, calling the report "trash". While I agree this proposed trade would be "trash", the most talked about landing spot for Carmelo has been with close friend LeBron.
Reading between the lines, I don't see LeBron's response as a guarantee this trade won't happen. The Cavaliers have truly valued James's opinion in his second tenure with the team. So if he suddenly decided this was the right move, I'm sure the Cavaliers would be players in this trade.
There is plenty that could go wrong if this trade happened, but the chemistry between LeBron and Carmelo could be huge for a team that has been faltering recently. At the same time, Kevin Love is a key component to the Cavaliers success. In fact, I personally believe he's the straw that stirs the drink, not LeBron or Kyrie. For the sake of a discussion, let's breakdown how important Kevin Love is to the Cavaliers.
I'll start off by saying this. I'm a little biased in this argument. Personally, I'm not a Carmelo fan. Now that's on the table, I'll let the stats speak for themselves.
Kevin Love: The Cavaliers Key Ingredient 
If you didn't watch the game last night, then you missed a fast-paced scoring frenzy and an electric atmosphere. The competitiveness shown last night has me excited for what the playoffs have in store for the Eastern Conference.
Pros
At the heart of this game was a fantastic performance from Kevin Love. Love had 39 points, 12 rebounds, three steals, and shot 60% from three. Unreal stats from Love. To have a guy that can guard Marcin Gortat all night, who then proceeds to annihilate the Wizards from the three point line is an accomplishment that few players in the league could achieve. His three point expertise, along with defense/rebounding potential is hard to replicate. He's also a great passer, as evidenced by this gif and that pass he had to LeBron to go to overtime last night.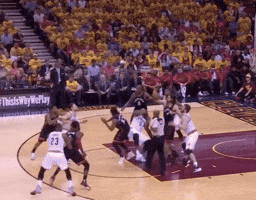 Looking at the plain old stats, Love and Melo aren't that much different. While Love averages a double-double with 20.4 PPG and 11.1 RPG, Anthony averages more PPG with 22.9 but less RPG with 6.0. You need to look a little deeper to see the true difference between Love and Anthony, and that is efficiency.
The perfect stat to exemplify his offensive/rebounding prowess is the Player Efficiency Rating (PER). Love ranks in the top 25 of the league in terms of PER, with a 22.34 rating.
Even more impressive is that out of those 25 players, he has the highest rebound rate (19.2) than all of them. The players that he rebounds at a higher rate than includes Demarcus Cousins, Anthony Davis, and Joel Embiid. Some of this value can be attributed to LeBron's impact, but both of them complement each other's game so well it's hard to say who benefits more. Love is even more efficient than his teammate Kyrie Irving, who ranks 32nd in PER with a 21.59 rating.
Cons
The only major con I can find with Kevin Love is he's injury prone. He had season ending knee surgery while in Minnesota, and we all know how serious that can be. It's tough to maximize his value if he's missing big games. Just this past year, the Cavaliers lost Love in Game 2 of the Finals due to a concussion. While he did come back in Game 4, the Cavs wouldn't have won that Finals without his presence, even with his stats dropping off in the Finals.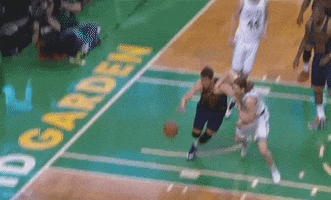 My evidence to back this up would be in the year prior to the Cavaliers winning the NBA Finals when Love dislocated his shoulder against the Celtics in the first round of the playoffs. The Cavaliers would roll through the Eastern Conference to the NBA Finals, but would fall short to the Warriors in six games. Without his presence on the court, the Warriors were able to put a lot more pressure on Lebron, who shot under 40% from the field during this series.
Solution: Stay Put With Love
Any one with sales knowledge knows that it is less expensive to keep an existing customer than to try and get a new one. This thinking should be applied to the situation the Cavaliers have with Love. As tempting as it may be to unite the forces of best friends Carmelo and James, they should continue rebutting any requests for Love. Unless it was an earth-shattering trade, of course.
For now, the Cavaliers have other issues to deal with, of which Love is not one. No matter how cringe-worthy the Lebron-Love relationship has been at times (note gif above, my personal favorite), LeBron needs Love. Based off his response to these reports, I think he's starting to realize that.
Cover Photo via CBS Sports
Gif via VICE Sports